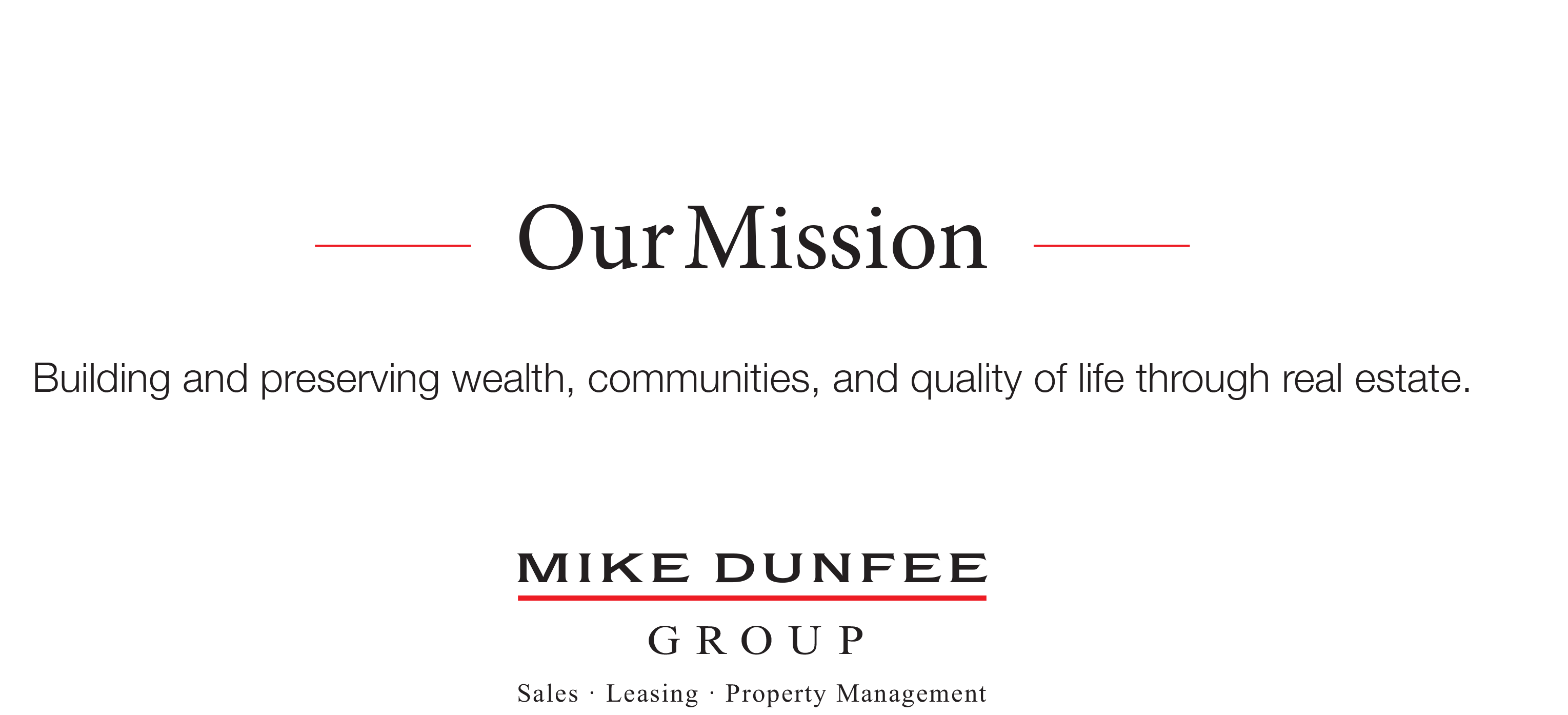 ---
Mike Dunfee Group Core Values
At the Mike Dunfee Group, we adhere to the following twelve core values. These are the core beliefs we abide by both in and out of the workplace and as a part of the team. We share these values and use them to guide us in our individual decision-making processes and while working together.
Integrity – We behave in a way that matches our core values. We act with integrity as this is how we build trust with our clients, team members, vendors, and the community as a whole. Without trust, we have nothing.
Quality – We deliver quality service that not only meets but also exceeds client expectations. We believe that the quality of our work reflects the quality of our character.
Communication – We strive to always communicate clearly and frequently with our clients and fellow team members. Communication creates better understanding in addition to building a higher level of trust.
Teamwork – We work together as a team in order to achieve our shared mission. We value collaboration with one another because it benefits and provides support for all of our clients, fellow team members, and our community.
Excellence – We strive for excellence and always make an effort to improve our services. We are continuously looking at new technologies, best practices, and new ideas that can help us improve our services and achieve a higher quality of excellence.
Diversity – We are stronger together because of our diversity. This not only includes race, gender, religion, and sexual orientation but also includes different generations, backgrounds, points of view, and personality types.
Tenacity – We value tenacity knowing that our grit and drive are often what differentiates us from other people. We are focused and relentlessly determined in the pursuit of our mission.
Community – We believe in contributing to the community. It is what connects people and builds a higher quality of life. We are a part of many communities and work to be of service to each one that we are a part of.
Harmony – We work harmoniously with one another, our clients, and the community as a whole. Just like musicians, we collaborate as a team to create a consistent, orderly, and pleasing arrangement of pieces that work in harmony with our common goal.
Family – We work together as a family so our team members can provide better support for their own families while also providing the services needed so that other families, of all kinds, can have a place to call home.
Education – We believe in seeking knowledge and training when available as well as providing it to our team members, clients, and the community at large. It improves our overall quality of life and leads to better decision-making by all.
Authenticity – We work from a place of authenticity. We say and do what we believe is true and genuine. We stick to our core values and stand behind what we believe in. We always tell our clients what we honestly believe to be true.